If you love playing games on your iOS, GameGem is an application that you will fall in love with instantly. It is quite simple and easy to use which allows the user to scan/edit values for money tweaks, god modes, gems, etc. To make this short, it will allow you to use all kinds of cheats in most games. It is one of the best game mod tools out there.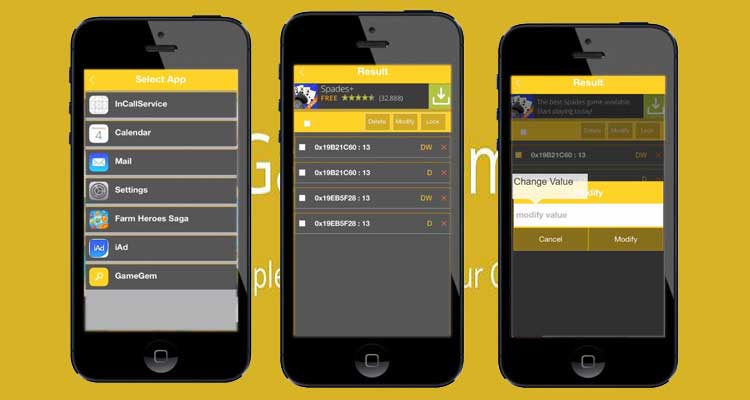 Download GameGem For iOS
Requirements For GameGem 
As you may know, there are certain requirements to use GameGem on your device properly. Let's have a look at these requirements: 
First and foremost, you need to jailbreak your device. Game gem is not an official application that you're going to find on the Apple App Store. Since it's not a legal application, you will have to jailbreak your phone first to use it. 

You should be using iOS 9.0 on your device. The app is not going to work on any operating system that's lower than iOS 9.0. On top of that, the application is compatible with iPhone, iPad, and iPod touch. If you're thinking about using this app on your Android phone, it's not going to work out. 
Steps To Install GameGem on your iOS Devices
If you want to install GameGem on your iPhone, you will have to make sure that you follow a few steps carefully. Let's look at the installation steps: 
You need to launch a Cydia store on your iPhone. You have to make sure that you have jailbroken your device first. It will take some time for the home page to load so you have to be a bit patient here. 

You will see the "Manage" option somewhere on the screen. You have to click on it and go on to the "Sources" option. 

You will be required to go to BigBoss Repository. Once you click on it, you have to find the GameGem tweak on the list. 

The task is simple after you have found the tweak, you just have to download and install it on your phone. 

When the download has been completed, the installation process is going to begin. Your device will throw a caution since the application is coming from an unofficial source. You need to confirm the installation and get it done quickly.
Once you have followed these steps carefully, you will eventually be able to use GameGem on your device. Now tweak any given game on your phone, it's going to be a very comfortable use for you as you can play your favorite games with full freedom. 
Features Of GameGem 
It allows you to tweak all the popular games out there. Do you love to play Clash Of Clans on your iOS? Do you like spending your quality time playing Final Fantasy? No matter what game you prefer on your iOS device, you get to tweak it with GameGem.

There's a sense of security involved here. It uses the VPN service which makes the whole process very secure. It allows the gamers to have the best kind of gaming experience here.

The user interface of GameGem is smooth. It works extremely slick and fast and also provides ample support for batch making and data locking. To sum it up, it just makes the whole gaming and tweaking experience smoother. 

It also prevents the banning of game accounts due to tweaking. There are a few games that might ban your gaming account completely as tweaking activities are strictly prohibited on it. With the help of Gamgee, you can tweak such games without worrying if the account is going to be banned or not. There's an added layer of security here. 

One of the major concerns for iOS users is that games come at a particular cost. When you use Gamgem, you will make sure that all the popular games are available for free. Even if you're using premium games, you wouldn't have to spend any money on them.
All in all, GameGem is a user-friendly application that is going to be beneficial to you if you like playing tweaked versions of your favorite games.
Using GameGem To tweak Games 
It serves the purpose of tweaking your favorite games but does the process write itself? Let's check a few points regarding how to use GameGem: 
Find the game that you would like to tweak. You can pick your favourite from the lot as it will make your gaming experience more thrilling. 

The next thing to do is to open GameGem on your phone. Wait until the home screen loads. Once the loading is completed, you have to head to the Hamburger Menu option. 

Select the game that you want to tweak before going back to GameGem. Click on the Points icon that drops on your screen. You have to search and enter the noticed number on the next screen. 

Switch back to the game where you will have to buy or see something to change the coins or Points Number. 

On the next screen, you have to head to the menu option and then click on modify. 

The last thing to do is to enter the number of points in the box game. Just like that, you have managed to tweak the game. 
FAQs 
Q1: Is GameGem available for free? 
Yes, you can download and install GameGem for free on your device. 
Q2: What are the benefits of using GameGem on my iOS? 
There are several advantages of using this app on your iOS. To start with, it allows you to tweak games free of cost. Its user-friendly interface, simple and easy installation, the safety and security of the application are several other benefits of this app.
Q3: Is it available on Android devices? 
Yes, the application is available for Android phones as well. But its most popular use belongs to iOS. 
Conclusion: GameGem iOS Download and Installation
Have you had enough of paying for your favorite games? Do you want to tweak the games that you love so that the whole gaming experience becomes more exciting? No matter what's the case, you should try GameGem on your iOS device. It is available for free and you will get the freedom to tweak any given game that's available on your iPhone!