Learn how to Play Fortnite on Mac by downloading it on M1, M2 & Intel devices!
Fortnite took the gaming world by storm in 2017 and never looked back. It has quickly become one of the most played games of all time, with millions logging in daily to enjoy its unique mix of battle royale, survival, and sandbox gameplay. It is doubtful any gamer doesn't know of a battle royale these days.
Still, it's a "the last man/team standing wins" type of game. Fortnite's bright, colorful graphics and fun gameplay have made it appealing to all kinds of gamers. Its versatile availability also helped the game's case. However, the availability of Fortnite on Mac became quite an issue on its own a while ago.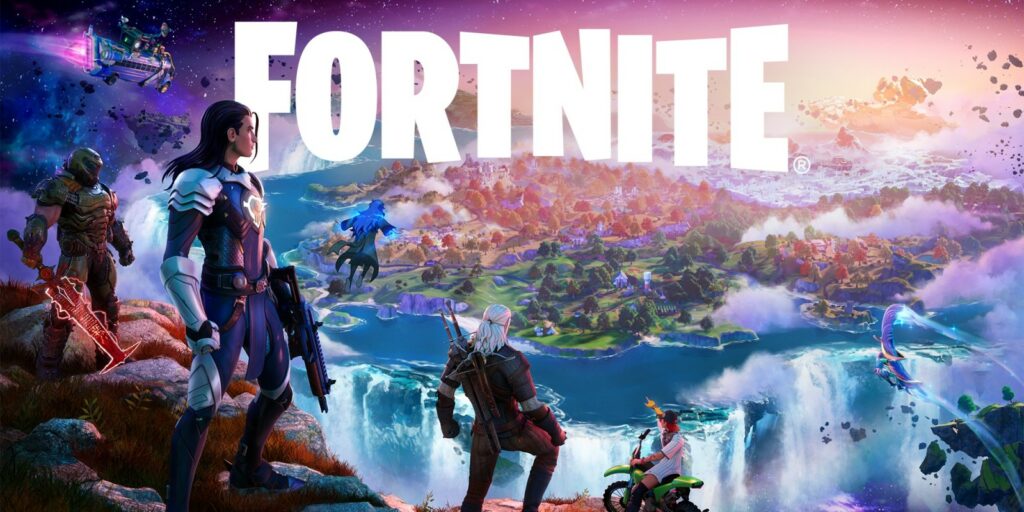 Fortnite On Mac
Fortnite on Mac used to be a thing for a while as the game had an official port for the operating system. In 2020, a legal dispute between Apple and Epic Games led to the discontinuation of the macOS version of the game. This sudden discontinuation left Mac users without a simple,  native option to play the popular title. 
Despite this setback, there are still ways for Mac users to play Fortnite. It can be simple and free or complex and a little expensive depending on what kind of system you have. But it is all worth it if you love the game and don't want a corporate dispute taking it away from you. 
Also Play: Download Minecraft on Mac
Can You Still Play Fortnite On Mac?
It is indeed more than possible to still play Fortnite On Mac; many have been doing so for a while now. Depending on your system, you can do so either via virtualization or by taking the help of cloud gaming. The chipset of your Mac computer is what makes the difference.
If it uses the older Intel chipsets, you will find it pretty easy to play Fortnite On Mac. It is a little more complex if you have a device that works on the Apple M1 M2 chipsets. Here are some possible solutions for both.
Play Fortnite On Mac With Intel Chipsets
If your Mac has an Intel chipset, there are a few ways to play Fortnite. Boot Camp and Parallels are your best bet. Boot Camp is already pre-installed on most Macs and lets you run Windows on your Mac while still using the Mac OS. Parallels, on the other hand, is a virtualization application that lets you run Windows on your Mac easier than Boot Camp. You can keep switching back and forth between the two operating systems however and whenever you want.
Keep in mind that compatibility issues may arise depending on your system's specifications. But both Boot Camp and Parallels are viable options for playing Fortnite on Mac with Intel chipsets.
1. Parallels
If you're a Mac user with an Intel chipset and want to play Fortnite, one of the easiest solutions is to download Parallels. Here's a little step-by-step guide to help you get through it:
Start by visiting the official Parallels website.

Once you're on the website, look for the "Download" button and click on it to initiate the download process.

After downloading the software, double-click on the installation file and follow the instructions to install Parallels on your Mac.

Once the installation is complete, launch Parallels from your Mac's Applications folder or the Launchpad.

To set up a virtual machine in Parallels, click on the "New" button, and follow the prompts to choose the operating system you want to install, such as Windows.
You will need to install the official Windows OS, but the process is simple and easy to follow. Once you have finished installing Windows, you can simply install Fortnite as you would on a Windows PC. It is important to note that Parallels is not a free program. You get a free trial, and upon its expiration, you will need to pay for a subscription to keep using the software.
2. Boot Camp
An alternative to Parallels is Boot Camp, which does the same thing as Parallels but with extra steps and no charges. But before you start the installation process, ensure your Mac meets the hardware requirements for running Windows. This includes having at least 64GB of storage space and a minimum of 4GB of memory. If your device is capable enough, here is a simple guide on using Boot Camp to install Windows on Mac:
Installing Windows on your Mac will erase all the data on your device, so make sure to back up your important files and data before proceeding.

Boot Camp Assistant is a built-in utility on your Mac that helps you install Windows. To open it, go to the "Applications" folder, then "Utilities," and click on "Boot Camp Assistant."

Boot Camp Assistant will prompt you to create a Windows installation disk. Make sure you have a Windows ISO file and a USB drive that's at least 8GB in size.

Boot Camp Assistant will now ask you to partition your hard drive, which means dividing it into two separate sections. Choose the size of the partition you want to dedicate to Windows and click "Install."

Boot Camp will now start the Windows installation process. Follow the instructions you see one by one to complete the installation.

Once the Windows installation is complete, Boot Camp will automatically download and install the necessary drivers for your Mac.

Once the drivers have been installed, restart your Mac and hold down the "Option" key to choose between MacOS and Windows.
This process will install the Windows OS on your device and allow you to play Fortnite on Mac without any issues. As long as you correctly follow these steps, you need to download and install Fortnite from its official website to start having fun. Boot Camp is free to use, but there are more advantages to using it as well. Parallels use both operating systems simultaneously and hence use more resources. If you do not have an elite device, Parallels can lead to performance issues. 
Playing Fortnite On Mac With M1 & M2 (Apple Chipsets)
Playing Fortnite on a Mac with an M1 or M2 chipset is a bit different than playing it on an Intel chip. You can't simply install Windows and boot up the game. That is because some compatibility issues render games like Fortnite completely unplayable on systems that use Apple Silicone chipsets. That's where cloud gaming comes to the rescue. Nvidia's GeForce NOW supports Fortnite streaming which is a blessing. You can even use Boosteroid as an alternative. Here is how to do it. 
1. Playing Fortnite On Mac Using Boosteroid
Boosteroid is a cloud gaming platform that allows you to play games on a Mac without compatibility issues, including Fortnite. Here's a step-by-step guide on how to play Fortnite on Mac using Boosteroid:
To start, you'll need to create an account with Boosteroid. This is a simple process to be done through their website.

Once you have an account, you can download the Boosteroid Client on your Mac. This will allow you to access the platform and play Fortnite on your Mac.

To launch Fortnite, simply log in to your Boosteroid account and select the game from the list of available titles. You will also need to log in with an Epic Games account to install and launch the game. Make sure you have an account if you want to play Fortnite on Mac.

The game will be streamed from Boosteroid's cloud gaming servers. As long as you have a stable internet connection, you can expect smooth gameplay. 
2. Playing Fortnite On Mac Using Nvidia GeForce NOW
Nvidia's GeForce NOW is a cloud gaming service that is a godsend for gamers who want to game without worrying about compatibility and requirements. Here's how you can play Fortnite on Mac using Nvidia GeForce NOW:
First, go to the GeForce NOW website and create a free account. You'll need your email address and create a password to start.

After you've signed up, download and install the GeForce NOW app on your Mac. The app is available on the Mac App Store.

Once the app is installed, launch it and log in using your email address and password.

After logging in, use the search bar to find Fortnite in the GeForce NOW library. You'll see the game listed in the search results if it is available.

Click on the Fortnite icon in the search results to launch the game. The game will start streaming from the cloud to your Mac.
Once the game is loaded, you can start playing Fortnite on Mac. If you're looking to get a head start or access some of the rarer items straight away, consider getting an OG Fortnite account. These accounts come with skins, emotes, and even high-level achievements, offering a great gaming experience from the get-go.
---
Conclusion: Download Fortnite for Mac (M1, M2 & Intel)
Despite the discontinuation of the macOS version of Fortnite, Mac users can still enjoy the game thanks to virtualization or cloud gaming. For Macs with Intel chipsets, options such as Parallels or Boot Camp can be used to install Windows and play the game. Macs with Apple M1/M2 chipsets may face more complex challenges. But solutions such as cloud gaming can still allow Mac users to play Fortnite. In the end, Mac users have options to enjoy the game still.