Learn how to download Yulustore for iOS for free!
Mobile phones have come a long way from the old days of brick phones. From being limited to just calls and texts, they have evolved into portable computers that have become an irreplaceable part of our lives. 
One such event in the history of mobile phones was the launch of the first-ever iPhone way back in 2007. It pretty much revolutionized the smartphone market and set a new standard in terms of technology to expect from our phones. Today, all of these smartphones are loaded with advanced features that can rival even computers and professional equipment. 
There are tonnes of applications that make it even better. The App Store boasts over two million apps, but that's not all. Some third-party stores go beyond it and give you access to more content. One of them is Yulustore.
What Is Yulustore?
Yulustore is one of the most popular third-party app stores in the mainstream today that a lot of people love and use. Yulustore is a website, and you don't need to download or install anything to use it. 
The website provides a wide range of apps and games that you wouldn't find on the App Store. There are plenty of modded, tweaked, and unofficial applications for iOS devices available here, and you can check them out on the website. 
The website caters to people who want to explore new and exciting apps that they can not find on the official Store. Whether they are banned, restricted, or locked behind paywalls. 
One great aspect of using Yulustore is that you can easily download and install unofficial without jailbreaking your device or any other risks.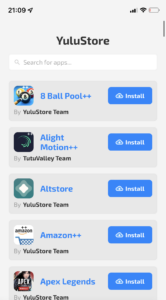 Download Yulustore for iOS
Yulustore does not have an application of its own that you can download or install. Instead, users can simply access their content through their official website. To do so, you have to go to https://yulustore.com/ through your Safari browser. 
Downloading unofficial, patched, and tweaked applications is easier than ever with Yulustore. Here are the easy steps you have to follow to download and install any Yulustore iOS app from the store.
Open your Safari browser and go to https://yulustore.com/.

Scroll down the list of applications or search for any specific app through the search box.

Click on the Install button when you find your desired application.

Wait for the progress bar to complete. 

The app will be downloaded when the progress bar is full.

And that's all! It will download the application on your iOS device, and you can install it like you would install any other iOS app. From FIFA to Spotify to Instagram, you can find a lot of tweaked apps here.
What Kind Of Apps Does Yulustore iOS Have?
Yulustore has a wide selection of different kinds of iOS apps and games. One of the most common types of apps you find on these stores is modded or tweaked applications. 
These modified versions of apps are never available on the App Store as it goes against their policies. These mods, tweaks, and patches either add extra features to an app or remove restrictions that are protected by a paywall. 
For example, you may find a tweaked version of Spotify that removes the ads you get consistently without paying for them. Many tweaked apps on Yulustore allow you to access their premium features that would typically cost you money.
You can also find unofficial apps and tools that are not available on the App Store due to strict app policies of Apple. Emulators or games with adult content are the perfect examples of that.
Is Yulustore Safe To Use?
There's always a risk involving anything you might find on the internet. There are bad elements everywhere, and it's only natural to feel concerned about your safety. Yulustore is generally safe to use. The website does not have a lot of adware either that might introduce malicious content to your iOS. There is no way to vouch for every single app on the store as they are not developed by the platform. But overall, it is a legitimate website, and many users on the internet trust and use the Yulustore iOS apps.
---
Conclusion: Download Yulustore for iOS
The iOS App Store is full of apps and games that make the mobile experience better than ever.
However, you should know there is more you can do on an iOS device beyond what you see in the store. Some apps do not get a pass to show up in the store. They may not meet Apple's guidelines or might be restricted by geographical limitations, or maybe were never meant to release on the platform. This is what led to the emergence of third-party stores like Yulustore.
Here you can get access to a bigger catalog of apps that you would never find through the official App Store.