The "Cannot Verify Server Identity" error may occur on your iPhone as well. Find out below a quick fix for this error.
This usually happens due to the fact that the mail server's certificate is fake. Every iPhone runs with certain rules and regulations. If the certificate does not follow the strict verification system in an iPhone, this error is going to pop up on your screen time and again. This error can happen due to a varied number of reasons. One of the very common reasons happens to be the version of iOS that you are using on your device. There are some other times when the certificate simply expires thus causing such an error to your mobile phone.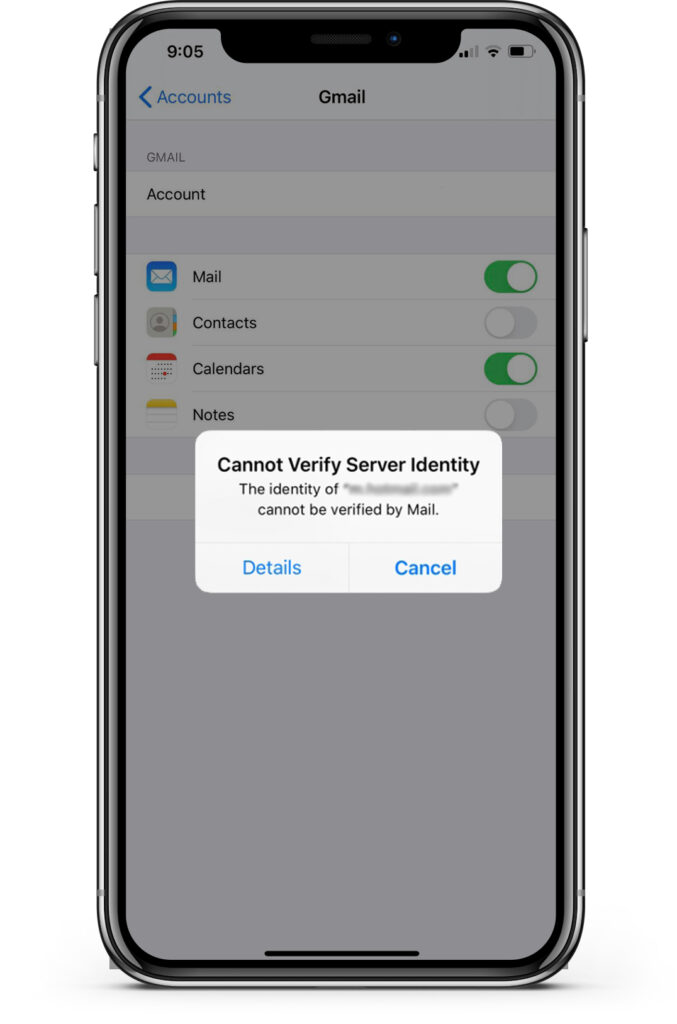 5 Solutions: Cannot Verify Server Identity
You will find a varied number of solutions in order to solve this sort of error. The most prominent of those solutions are as follows:
1. The first and most common solution to such a problem is restarting your device.
These errors may occur due to several processes running in the background and when you restart your phone, everything starts from very scratch and gets back to normal.
But before you go on to reboot the device, you need to see if the Mail app is still running on the phone. You need to quit the Mail app if you're doing so before you go on to restart the phone.
If you're using iPhone 8, you have to hold the side button firmly for a bit of a time.
You will see that the "Power Off" slider is going to appear on it. It wouldn't impact any of the memory on your device as is the case with a normal reboot of your phone, which you often do when there's some trouble in the device.
2. Another solution would be to quit the mail app and then enter it back into it all over again.
You can just simply go to the settings of your device and check the App storage section.

You need to enter it and there would be your mail app somewhere in the list. You have to click on it and the device will show you all the data and cache the application is eating and running alongside with.

You need to force stop the data and then enter the mail app all over again. You can also try to completely remove the background processes. Y

ou should go to the home screen of your device and find the "Messages" app. You have to swipe up to the Message app card and look to close it.

Once you're done removing all the background applications, you need to go back to the mail app and see if the error is fixed. There are high chances that it is already done with this small but effective solution. 
3. You can also look to remove your email account only to add it back after some time.
You have to enter the home screen of your phone and tap on Settings. There will be an option in the first menu itself regarding the Accounts & Passwords.

You need to go to the Accounts section. All your email accounts that you have signed up to on your phone will appear on it.

You need to remove the account connected with the mail app at that very moment as there will be a delete option appearing in front of you.

You will be asked for confirmation if you want to remove the account, you have to click on confirm.

Now you have to revert back to the Accounts section and click on the Add Account option there. You have to enter all the information regarding your email account and the job will be done. 
4. One of the most used solutions is updating the iOS.
When you use an outdated operating system for your iPhone, you will see certain problems with your phone. Most of the applications do not support an existing operating system and we are talking about iOS here. One thing that's for sure about iPhone operating system is that you have to follow certain rules and regulations and one of the topmost rules is to update your iOS time and again as and when it drops on the app store. You will see an error getting fixed the moment you updated your iPhone operating system. 
5. The last major solution in order to solve the identification of server identity is resetting all the settings of your device.
This can be a risky decision because you might lose a lot of your data. In order to make sure you're in the safe zone, you have to first backup all the important data on your phone. Although there's not much risk regarding loss of data when you reset the settings, the chances are still there. Once you backup your data, it will be an easy decision for you to reset the settings, and then you're surely going to solve the problem of server identity.
FAQs:
Question #1: Does this problem occur due to using an older version of the iPhone operating system? 
It is not necessary that you use the most up-to-date version of iOS in order to keep yourself away from all the errors. But using a very old iOS version can prove to be a problem and a reason behind this error. It is better to make sure that you use the newest version of iOS. 
Question #2: Can you make an email account on an iPhone? 
It is pretty simple to sign up for any email website through the use of an iPhone. It allows you to choose the domain that you want and it can happen within a matter of moments. 
Question #3: When you reset the settings of your phone, do you lose all your data? 
There is a risk of losing all your data potentially. It may be advised that you backup your data before you reset the settings. In that way, you're going to fall back into the safe zone. 
Question #4: What is this error supposed to mean? 
It is a common error in iOS. This problem occurs when your device feels that the mail's certificate is fake. It makes arises time and again unless you find a permanent solution to it. 
Question #5: What are the causes of this error? 
When you use an expired certificate on your email app, this error is definitely going to drop time and again. A wrong domain can be one of the major reasons behind it too. Sometimes, the legit certificates can be wrongly classified as fake ones by your iPhone.