Did you lose one AirPod or the whole AirPods Case? Check out this guide for some help.
AirPods are really stylish and give a different look to you when you wear them. The fact that AirPods are wireless and can be connected to your iPhone very comfortably makes it even better. They are durable as well for the fact that the chances of AirPods getting defective are pretty less. But there are a few problems with AirPods that might be a matter of concern for you. 
With wired headphones, you can easily keep them safe and there's not a great chance of them getting lost. With AirPods, there's always going to be a chance of theft or something if you don't keep them properly in a case. But what if one of the AirPods or the case itself gets lost? Let's look at both the situations one by one and how a solution can be found. 
How to find one of the AirPods
It can happen to you that one of the AirPods gets lost. If it happens to be the case, the other AirPod doesn't have much significance either especially if you're a music lover. It will be a major turn-off to listen to your favorite songs with just one AirPod plugged in. You can find them in two ways, one is with your iPhone and another is without it. Let's check both aspects one by one:- 
1. With iPhone 
You just have to open Find My App on your iPhone. When you scroll down, you will find an option called "Devices Tab". You have to further select your AirPods on this tab. The phone will show you the last location where the AirPods were connected to it. It will give you a better understanding of where you left it or whether someone has stolen it from you. 
2. Without an iPhone 
This is a more interesting method of finding AirPods that might not come to your mind straight away. You have to open the iCloud website through your phone or your computer, whatever is suited for you. You are required to log in with your Apple ID and password. Once you do so, you will have to select your iPhone. Choose the AirPods and it will give you a history of all the times you paired it with your device. You just have to see when was the last time it got disconnected and what's the location where it turned off so that you can try to find it.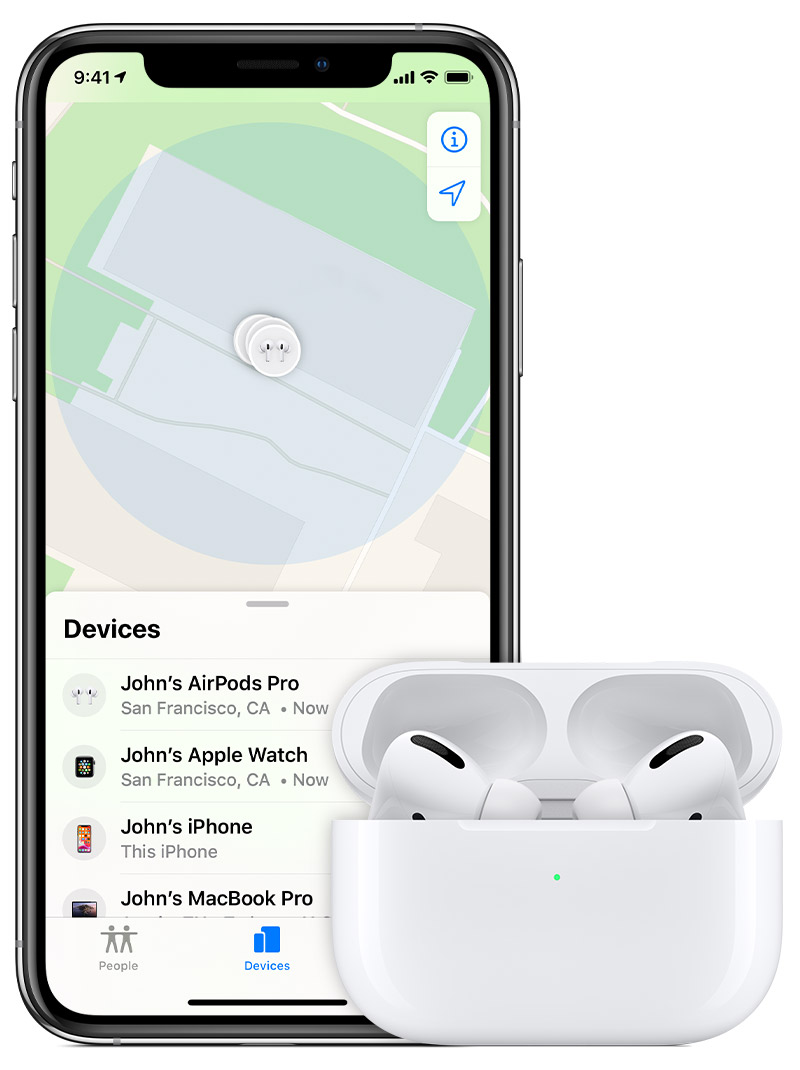 How to find a lost AirPods case
If you have lost a pair of AirPods along with the case entirely, there's a different method that you have to apply in order to find it back.
You have to set up your Find My iPhone, make sure that you use the same iPhone that was connected with your AirPods last time. If the AirPods are in the range of 10 meters around you, the Find my AirPods feature is likely to work. It will show you an entire map regarding where you went along with your AirPods connected to the iPhone.
There will be two options available with you, "Directions" and "Play Sound". While Directions will guide you towards the AirPods, the Play Sound feature gives you a chance to beeping your AirPods. If they are near to you, it will be easier to track your AirPods along with the case. If it is out of your reach, the find my feature will not give you many details other than the last known location of the AirPods. 
FAQs
Q.1:  Can I find my AirPods if I have lost them on a bus on which I was traveling earlier? 
Once the bus goes out of reach, the AirPods will get disconnected on their own and it will be hard to find them. All you can do is try to find the bus all over again and see if the AirPods are still there. 
Q.2: I can't find one of my AirPods since the morning. What should I do? 
You can try to use the find my feature and locate the AirPods. It's pretty easy to find AirPods if you have lost them sitting back at home. You just have to click on the "Play Sound" option on the Find my feature and it will immediately start beeping. 
Q.3: What if my AirPods have been stolen by someone? Is there a chance of getting it back? 
If the person who has stolen your AirPods is far from you, it will be difficult to track your AirPods. You can file a police case but the chances are very slim that you will get your AirPods back. 
Q.4: Is there a chance of finding an AirPods case back even if the AirPods are still there with you? 
Unless you find them back on your own, there's no way you can find back the AirPods case. The only thing that you can do is to buy back the AirPods case all over again. 
Q.5: Can the AirPods be found easily after getting lost? 
If it is in the range of 10m, you will be able to track the AirPods comfortably. But in case the range is beyond 10m, there are high chances that you have lost your AirPods forever. 
Conclusion: Find a lost AirPod OR an AirPods Case
Finding your AirPods can work in case you have lost them somewhere around you. If it is beyond your reach, it is better to buy a new one from an online store. There are more stylish AirPods available after a passage of time with an increasing number of features!